Inform our team on who is performing the steps to move
The individual that is handling the moving of existing projects from a Billing Account to a Woolpert Enterprise Billing Account needs to have correct permissions granted to complete the process.
Must be an "Owner" on the project(s) being moved

Must have "Billing Account User" permission on the Woolpert Billing Account

Your Woolpert contact can grant this permission - just let them know who is performing the move
Steps to Change Billing Accounts
1. Login to the Google Cloud Console by going to console.cloud.google.com. You will want to be logged into the correct account that now has both the Project Owner and Billing Account User permissions mentioned above.
*Hover over the account on the very top right corner on the blue bar to verify it is you

2. On the top left in the console, hit the hamburger menu to bring down options, choose "Billing".

3. Once on the Billing Account page on the left-side menu choose "Account Management" under Billing Management which will pull up all projects linked to the current billing account you are moving away from.

4. For each project being moved, click the ellipsis button (three dots under "Actions"), and choose "Change billing".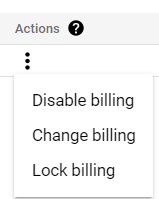 5. Then you will be prompted to choose a new Billing Account and you should be given an option to choose a billing account associated with Woolpert and your organization. I.e. "Your Organization - Enterprise Billing Account - Woolpert"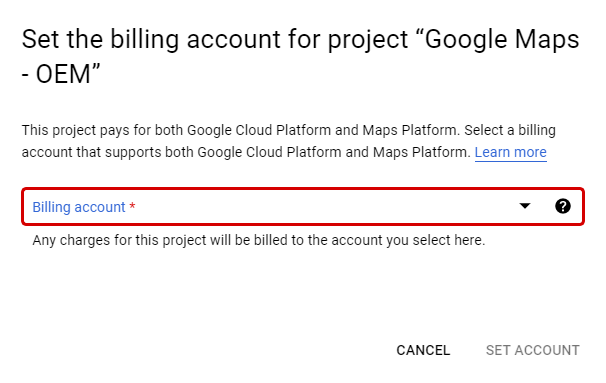 * Repeat steps 4 & 5 for all projects you are moving under Woolpert's Enterprise Billing Account.
Confirm Billing Process and Provide us your Project IDs
Once the projects are moved over to the Woolpert Billing Account, all consumption associated with the projects from that moment on will be billed through Woolpert. You should expect to receive two invoices for usage consumed in the month the move took place. The first will be from Google (or your old partner) with the usage consumed before the move, and the second will come from Woolpert with the remaining usage consumption within that month. The following months after transition will be all invoiced through Woolpert.
Please share the project IDs that you moved to the Woolpert Enterprise Billing Account with your Woolpert contact and let them know which billing option from below you choose.
You will have two options for billing:
Include these new to Woolpert Project IDs on the existing combined invoice. Important to note: The invoice will still be broken down by Project ID, and you will be able to see a breakdown of API calls/spend associated with each Project ID.

Send a separate invoice with these new to Woolpert Project IDs. You would choose this option if the projects fall under a different group, line of business, or cost center within your organization than the existing Projects on the Woolpert Billing Account.
Identify additional users that need access to the Billing Account
Provide your Woolpert contact with the email addresses for all Google accounts or groups that will need permission to use the billing account.
Think about developers and IT personnel who will create and manage projects. Also consider accounting and other personnel who may need to monitor spending and budgets.
Grant Woolpert project permissions
Be sure to follow the steps in this article to add our support group account to your projects - Grant Woolpert Project Access.